Psychology · People · High-Performance
Career Acceleration and Success Strategies for Women in Business 
Gender Balance, Diversity and Inclusion
Shona helps organisations develop, support and retain their female staff.  She is often engaged in competitive or male dominated industries to help with gender balance, diversity and inclusion.  Her book –
The Psychology of Successful Women
was published in early 2022 and she works with women all over the world through her
Career Acceleration Program.
Her clients include:
Ashurst
ATCO
Baker McKenzie
Bird & Bird
Chevron
Citibank
Cleary Gottlieb Steen & Hamilton
Corrs Chambers Westgarth
Covington and Burling
DLA Piper
Gold Fields
HFW
IHS Markit
Lawyers on Demand
Lockton
Shell
TATA
Wilson Sonsini Goodrich & Rosati
Women in Energy
Women in Transport
Events, Workshops and Webinars
Shona's signature coaching program specifically designed for women is called The Psychology of Successful Women – Career and Success Acceleration Program.
Key topics include:
The Psychology of Successful Women
Step Up and Stand Out from the Crowd
Communicating with Impact, Influence and Credibility
People Psychology: It's All About Relationships
Thrive: Resilience, Purpose and Well-Being
Your Career Acceleration Toolkit and Blueprint for Success
Shona's highly practical and results-focused Career Acceleration Program is specifically designed to help driven women accelerate their careers and maximise their success – according to what 'success' truly means to them. It can be delivered to a specific cohort of women within your organisation or network.  As it's delivered live via Zoom, women can attend from different locations.
Find out more about Shona's best-selling book – The Psychology of Successful Women here or listen to The Psychology of Successful Women podcast here.
Why do clients engage Shona?
Shona is passionate about gender equality, supporting women in business, and helping organisations build inclusive, high-performing teams.  Shona has 20 years of experience as a high-performance coach and inspirational speaker and has helped thousands of women all over the world to succeed and thrive in their chosen field.
"Having been recommended Shona by one of our clients, we engaged Shona to deliver her Career Acceleration Program for Lockton Women. We had outstanding attendance and amazing feedback at each of the informative and interactive sessions she delivered. I highly recommend Shona to any organisation who wants to support their female staff!"
Carla Moffett, Partner, Lockton London
"Myself and an amazing bunch of women from ATCO Gas completed Shona's 6 month program called "The Psychology of Successful Women – Career Acceleration Program". We have learnt a lot, and have been given heaps of practical takeaways. I highly recommend Shona's course and I cannot wait to read Shona's new book!"
Sheree Wigley, ATCO
Please scroll down to read more client testimonials.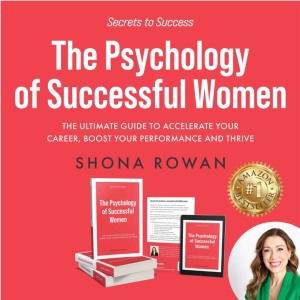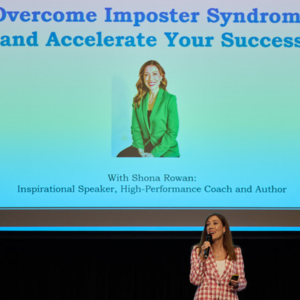 Corporate and Private Clients:
Corporate:  Shona's Career Acceleration Program can be tailored to meet your organisation's specific requirements and begins with a free, no obligation consultation to identify your core objectives.
Private:  For more information on Shona's Career Acceleration Program for Women, please email us support@shonarowan.com
"Shona's Career Acceleration Program is by far the best development program I have ever attended.  Every session brought new insights, learnings and practical tips to overcome issues.  I couldn't recommend this any higher! If any of my contacts have questions, don't hesitate to reach out. It is awesome!"
"I found Shona's Career Acceleration Program insightful, informative and enjoyable! Each topic was clear and provided practical, real-word examples. It was an added bonus to also get to know a group of inspiring, like-minded women. I would highly recommend the program to anyone wanting to develop tools to challenge some of the issues commonly faced by professional women and accelerate their career."
"Shona provided me with tailored and actionable advice where I needed it the most. I took part in her Career Acceleration Program and I found Shona to be insightful, inspiring and a quick thinker – adapting her content to fit the needs of our group. I would highly recommend joining Shona's program, it's like having a kick-ass mentor for 6 months."
"Shona ran a session for our 'BakerWomen' community on how to "Step Up and Stand Out from the Crowd", and have impact, influence and visibility. It was such an engaging, motivational and inspiring session! The session was delivered via Zoom and Shona's warmth, authenticity, positivity and energy definitely shone through. The engaging presentation, thoughtful content and meaningful practical exercises made it one of the best sessions I have experienced! We all left the session feeling truly motivated to stop playing small, increase our personal impact and presence, and implement our personal action plans!"
"Wow the last 6 months have flown by participating in Shona Rowan's Career Acceleration Program. Thoroughly enjoyed the interesting module content, fantastic takeaways each month and great opportunity to meet other like-minded ladies. Bonus – a copy of Shona's The Psychology of Successful Women book to keep practising those newly learnt skills! Highly recommend this practical and inspirational program."
"We invited Shona Rowan to deliver her keynote presentation 'The Psychology of Successful Women' in three of our offices in Australia. The event was a great success, our clients and staff were very impressed with Shona and found her to be an engaging presenter. In fact some of our clients were so impressed they too have reached out to work with her."
"We recently launched a 'Women in Leadership' initiative within Lockton in the Middle East region and we wanted to kick it off with a workshop which would help the development of our future female leaders here at Lockton. Shona tailor-made a session to suit our particular requirements and was attentive to every detail. The afternoon was dynamic, fun and extremely informative. It was highly appreciated by the diverse range of females in the room. Shona is clearly extremely passionate about this subject and that passion was addictive. I would highly recommend her to any other company wanting to invest in their females – she will definitely exceed expectations."
"As an organisation that supports women in progressing their careers in male dominated environments, Shona Rowan is the ideal inspirational speaker for our members. Shona has run several workshops for WTS London and these have all been a huge success! The sessions were all on different topics, including networking, personal branding and the psychology of successful women, but they all incorporated the same high level energy and interaction that has proved to be extremely popular. We have had fantastic feedback and our members appreciate the practical advice they take away from these sessions that they can apply immediately to their day-to-day roles."
"I've been lucky enough to join a number of Shona's events held for the Shell UK women's network over the years. Her passion, enthusiasm and energy and wonderfully engaging style of delivery motivates me to immediately practice everything I have learnt! Shona also writes amazing newsletters that somehow seem to find their way into my inbox just when I need it the most – always insightful and inspirational!"

Shona Rowan is an international High-Performance Coach, Keynote Speaker and Best-Selling Author.  She has over 20 years of experience working with Fortune 500 companies, leading professional service firms, entrepreneurs, business owners and career-minded individuals to maximise their performance and accelerate success.